Content with tag culture .
Outline of 20 years ups and downs of grassroots activism in the UK
In my expirence the flowering of the indymedia networks followed by the first years of climatecamp were the high points of activist culture. The end of climate camp was the low point of activist culture, after this the drift to NGO and fashion was wide and dissipating.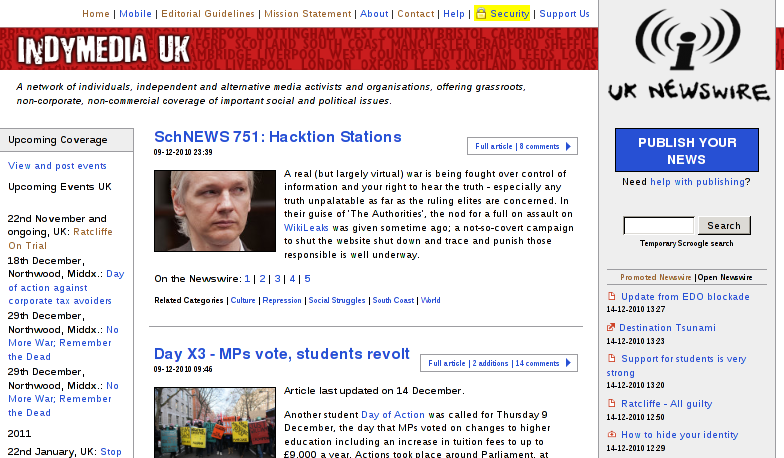 Occupy was a break in activist culture, it was the first mass "internet first" on the ground manifestation that happened disconnected to the past of activism because of the use of #dotcons tools as prime organising space. The old couture has been discredited by the failings of climate camp, the new dotcon tools had been celebrated and used well by Ukuncut etal. Were Ukuncut was a reboot of old climate camp crew, Occupy was a project of the #failbook generation in all its wide reflective madness.
Were are we now? The old left is rebooting with a broken mix of the blairite right and the Stalinist/toxic left both pulling at the radical liberal centre. Alt media content is being rebooted but the network it needs to build, to stop its drift to NGO burn out is missing. The right is ideologically bankrupt and visibly grasping, but stronger than ever.
In activism currently we are full of the biter taste of occupy and NGO worshipping of dotcoms and careerism. The working of the 21st century is potentially different to the workings of the 20th century the are groups, networks and individuals that embody this and a larger group/individuals who fight for the past century working practices.
The "certainties of the 20th century" are grasped in our frail and trembling hands, the first stage of a "network" reboot is to let go of these "certainties" one constructive path to this is to fill in the gaping activist memory hole by looking at what works and what dose not. The lost and flailing progressive alt needs foundations bridging this gap to build on.
The IS NO SHORT TERMISM HERE but the is speed and nimbleness, plenty of fun, creative motivated building to be done. Many of the foundation problems can be built in parallel as a "network" so it can happen faster than most can imagine.
"Never doubt that a small group of thoughtful, committed citizens can change the world. Indeed, it is the only thing that ever has."
UPDATE:
Am currently working on two projects to take steps to medate the issues I ouline here:
The Witches Cauldron - open activist archive
Many of the times I tell people how easy it is to build a small solar power set-up, I am given a dismissive and superior reply that I should be making my own panels not advising people to buy ones. This like many insecure replies is both wrong, dis-empowering and could be dangerous. Here is an article on the subject http://solarelectricityhandbook.com/Solar-Articles/build-your-own-solar-panels.html the article highlights its not a bad thing to actually make your own solar panel, just don't do it as a serious way of generating DIY power. To give building a go try this article http://www.wikihow.com/Build-a-Solar-Panel
We have a very serous problem at the moment in progressive technology
Geek culture has always had a strong ant-progressive side to it and this in now dominant – it manifests as naivety about politics and over- complexity in open solutions.
NGO culture is based on a anti-commons, a dog eats dog fight for survival based on short term funding criteria.
Traditional left political party's and unions are stuck on the defensive, and when they do step over the trenches to attack they take up NGO or geek prioritises.
Technology has a HUGE potential to shape our futures in progressive ways, BUT it also has a dark side to repress our futures and it is this dark side unchallenged that we are moving to.
If you wont to help in using technology for positive social change then have a look at this project – all areas of skill are needed.
What is the web? You are the tools you use.
The are meany tools for organizing on the web, few are widely used, most are a flash (a churning) of fashion. Fashionable web evangelist's will tell you to use that tool or this tool for a job. And each tool is designed to for fill one job.
BUT the most widely used tool on the web is the wiki, and the wiki is not a tool for a particular job rather it is a culture, a society a way of working that solves a "social problem". The resion all the other tools are just churned over is that they are a product of the dominant mind set, they have a culture but it is not the same culture as the wiki or the web. We constantly mistake the issue as one of tools rather than one of culture. Change your culture not your tool, overcome the churning and actually get something done. Don't be a fashionable dead head please.
Try a wiki today.