Content with tag contemporary media .
Some questions came out of the last grassroots media gathering about OMN
Questions and draft answers
in terms of what I don't understand it is what do sites specifically have to do?
* At a basic level very little.
- output an RSS feed of their articles/videos/podcasts (most sites do this already)
- grab a sidebar embed code (or CMS plug-in) then configure it with interest tags
- modify/refine their tag embed as needed, if more involved re-tag content items
- there are more complex roles, running an aggregator, for instance. This is an open distributed global job.
* And what help does this network provide.
- publish once and appear on 100's of sites
- much higher viewing numbers by pushing content in front of interested audiences
- posts going "viral" outside of Failbook and Twitter
- co-operative categorisation of meta-data is a side affect of the OMN
- HUGE linking of alternative media
- HUGE redundant/distributed backup of all grassroots media OUTSIDE the transient corporate "cloud". Our history will be much better "archived" than the dotcoms.
- looking into the future: the grassroots builds and helps to define the "semantic web" - that is web03 in dotcom thinking.
- be part of the future not just a trailing edge transitory past.
* I recognise the plan is to open up the internet (i am still unsure what a portal is btw) so people aren't just going through facebook, google and twitter to find streams of information.
- The internet is inherently P2P. Each computer is the equal of every other. In theory your iphone is the same as far as the internet is concerned to the whole of google. it is core radically horizontal.
- This has been reshaped into a client- server internet were you are a small you – big them. This needs describing better.
* I gather from what is written that there is some sort of categorisation that is going on and mutual promotion in this plan for an open Media network and that some people's sites (the aggregators like ourselves) would key to that promotion and categorisation, but I can't really work out how that works, how the media provider benefits, what the media provider has to do, and what does the average punter get and what would it look for them.
- It's a folksonomy based on open tagging. The original publisher can tag their content, aggregators can re-tag content, end users with embeds/plugins can retag.
- this taging is synched across the OMN thus feed flows will update in (semi) real time.
- the embeds (plugins) and feeds tagging are based on boolean logic, thus you can have + and – and AND etc
- there is a social side to the project (the 4 opens). With tagging there is an etiqette - it's socially acceptable to add tags to re-direct flows rather than remove tags (though mis-tagging can of course be changed). This side needs talking about more.
* I am afraid it sounds like a really good plan, based on evidence and solutions to existing to problems, but it is too vague specifics for me to understand what it is.
- There is a huge hole in the technical knowledge of the media producers. There are social norms against the 4 opens. This project flows against mainstream geek culture.
* Everyone is going to ask
* what do I have to do? how does it help me?
- This is so obvious to me that maybe some one else needs to write this.
* What will it look like?
- on the surfice very little will change, but grassroots media will have the potential to surpass the dotcoms and failing traditional media much like the original indymedia project did in its early days when its page views matched the BBC on big days of action.
* how will it help others?
- Traditional media is practically dead as open media, and grassroots media is hopelessly individualistic, short lived and disconnected to replace this faild traditional media. The social media dotcoms are about social control for private profit – then socal control for political control.
Outline of 20 years ups and downs of grassroots activism in the UK
In my expirence the flowering of the indymedia networks followed by the first years of climatecamp were the high points of activist culture. The end of climate camp was the low point of activist culture, after this the drift to NGO and fashion was wide and dissipating.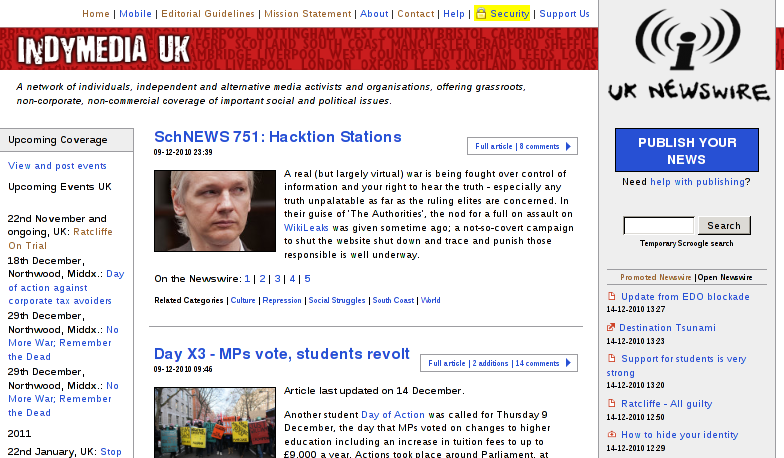 Occupy was a break in activist culture, it was the first mass "internet first" on the ground manifestation that happened disconnected to the past of activism because of the use of #dotcons tools as prime organising space. The old couture has been discredited by the failings of climate camp, the new dotcon tools had been celebrated and used well by Ukuncut etal. Were Ukuncut was a reboot of old climate camp crew, Occupy was a project of the #failbook generation in all its wide reflective madness.
Were are we now? The old left is rebooting with a broken mix of the blairite right and the Stalinist/toxic left both pulling at the radical liberal centre. Alt media content is being rebooted but the network it needs to build, to stop its drift to NGO burn out is missing. The right is ideologically bankrupt and visibly grasping, but stronger than ever.
In activism currently we are full of the biter taste of occupy and NGO worshipping of dotcoms and careerism. The working of the 21st century is potentially different to the workings of the 20th century the are groups, networks and individuals that embody this and a larger group/individuals who fight for the past century working practices.
The "certainties of the 20th century" are grasped in our frail and trembling hands, the first stage of a "network" reboot is to let go of these "certainties" one constructive path to this is to fill in the gaping activist memory hole by looking at what works and what dose not. The lost and flailing progressive alt needs foundations bridging this gap to build on.
The IS NO SHORT TERMISM HERE but the is speed and nimbleness, plenty of fun, creative motivated building to be done. Many of the foundation problems can be built in parallel as a "network" so it can happen faster than most can imagine.
"Never doubt that a small group of thoughtful, committed citizens can change the world. Indeed, it is the only thing that ever has."
UPDATE:
Am currently working on two projects to take steps to medate the issues I ouline here:
The Witches Cauldron - open activist archive
Video - Faslane Peace Camp
(DRAFT) The finished film has no people in it and long shots of organising lists and the camp infrastructure rather than the issues and characters surrounding the campaigns. This might seem strange at first but its important to realise that films don't show the world as it is rather they all have a peurpures, a point of view, the point of view here is recruitment of new creative and competent people to use and live on the site.
The space empty of peopule is open for peopule to come in and fill it with life and creativerty. The song by seizetheday "thank you" is both a thanking the people who built the camp and thoughes who will come (the films audience) to keep the site open and perpusfull.
The use of long video lists of "rubish rules" and "todo list" is to highlight that that this is not just a place to party its a place of work and creativity/responsabilerty. The library and free shop is about showing that this is a sustainable alternative culture, not just a transentery protest. The language used throughout is conversational and inviting "pop in for a cup of tea, the is lots to do". The shot of the Anarchy caravan followed by the green garden is about that both fluffy and spiky activists are welcome.
The whole film is shot in bright sunshine, full of greenery and flowers to give a sense of buty/attractiveness - obversely in the middle of winter poring with rain the would be another view... The final shot of the nuculer base is a small part of the video - as its about protest camp cultures, rather than the issues involved in the campaign. Anybody who argues, and some will, about this is missing the point. With out a healthy camp the campaign in weekerend, this the film has a 2 step purpose, rejuvenation of the camp to then renew the campaign.
You really don't need a big camera to make a good film. The film was shot entirely on a Samsung note II mobile phone in 720p resolution. I shoot at this reduced resolution to help with rapid file upload as with full HD it is almost imposable to upload the huge files reliably.
-----------------------------------------
Faslane Peace Camp has been here for 30 years campaigning against nuclear weapons.

People living in all weathers, a community of committed campaigners. The camp has been a base for actions, a ecological alternative, a home for some, a eduction for many
Phone to find if the is space to stay 01436 820901 or 07511793227

http://faslanepeacecamp.wordpress.com

Just down the road is a HUGE nuclear missile base that we have to do something about...

Video: http://hamishcampbell.com
Music: http://www.seizetheday.org
Parasitic traditional media
Its interesting how parasitic traditional media is, an idea or a news story will come out in a sub-culture (contemporary media) weeks or years before it becomes a "story" in traditional media. This time lag – together with the general lack of connection in traditional media to where story's come from/break is noticeably dysfunctional in our new connected world.
This parasitical behaver will continue in-till we solve these issues in contemporary media:
* financial support for the production of grassroots per-per media – something like flattr is an example of an attempt to solve this problem.
* Ethical norms of linking and aggregation in per-per production need to solidify and be coded into contemporary media projects. An example of this would be the OMN project.
* a general discrediting of traditional media as a reliable source of information – shifting peoples behaver of linking away by providing better working contemporary media projects. An example of this would be the http://visionon.tv project.
The current connections between contemporary and traditional media are largly broken, do we try and fix it or not is the relevant question? Do we actually need these old gate keeping institutions and if we do, are they flexible and lean anufe to survive anyway? I think diversity of strategy's are probably helpful here.