Content with tag actavisam .
Moveing through/past "blocking" in activism
can be hard to keep "bureaucratic" thinking out of activist organizing. We do have ongoing adhock strategys that work fine, but, these have issues with scaling.
This is an unresolved and un-looked at.
We have a bit of friction going on, lets all try and reduce this by being clear on who is doing what.
Am taking the lead on the "**** ****" the *** *** part of the project in general.
For the **** *** am taking on **** ****.
If you have input into these areas, its good to run it past me, as we all work in different ways, which is a good thing :)
(optional) What roles are the rest of you taking on?
Outline of 20 years ups and downs of grassroots activism in the UK
In my expirence the flowering of the indymedia networks followed by the first years of climatecamp were the high points of activist culture. The end of climate camp was the low point of activist culture, after this the drift to NGO and fashion was wide and dissipating.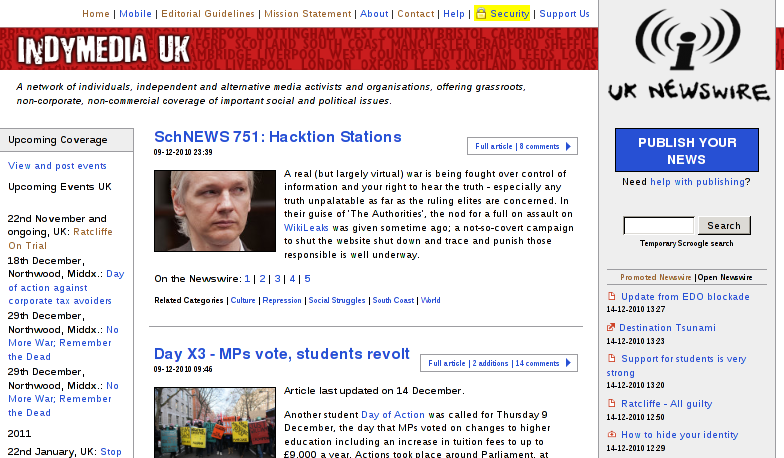 Occupy was a break in activist culture, it was the first mass "internet first" on the ground manifestation that happened disconnected to the past of activism because of the use of #dotcons tools as prime organising space. The old couture has been discredited by the failings of climate camp, the new dotcon tools had been celebrated and used well by Ukuncut etal. Were Ukuncut was a reboot of old climate camp crew, Occupy was a project of the #failbook generation in all its wide reflective madness.
Were are we now? The old left is rebooting with a broken mix of the blairite right and the Stalinist/toxic left both pulling at the radical liberal centre. Alt media content is being rebooted but the network it needs to build, to stop its drift to NGO burn out is missing. The right is ideologically bankrupt and visibly grasping, but stronger than ever.
In activism currently we are full of the biter taste of occupy and NGO worshipping of dotcoms and careerism. The working of the 21st century is potentially different to the workings of the 20th century the are groups, networks and individuals that embody this and a larger group/individuals who fight for the past century working practices.
The "certainties of the 20th century" are grasped in our frail and trembling hands, the first stage of a "network" reboot is to let go of these "certainties" one constructive path to this is to fill in the gaping activist memory hole by looking at what works and what dose not. The lost and flailing progressive alt needs foundations bridging this gap to build on.
The IS NO SHORT TERMISM HERE but the is speed and nimbleness, plenty of fun, creative motivated building to be done. Many of the foundation problems can be built in parallel as a "network" so it can happen faster than most can imagine.
"Never doubt that a small group of thoughtful, committed citizens can change the world. Indeed, it is the only thing that ever has."
UPDATE:
Am currently working on two projects to take steps to medate the issues I ouline here:
The Witches Cauldron - open activist archive
A view and strategy for sustaining the boater lifestyle and community.
Food for thought (DRAFT)
A view and strategy for sustaining the boater lifestyle and community.
NVDA (direct action) with a good PR team works - Sorted office occupations in conjunction with a competent media team, could knock CRT onto the defensive in a week and refocus their agenda within a month. However this is a dangerous strategy because if they are defeated to effectively and to hard then there will be pressure to replace them with something "better". And better won't be better for the boaters.
What is needed before this strategy is attempted is the building of grassroots self-management among the boater community so that the space opened up by the knocking back of CRT can be filled with what we want. This would considerably increase the likelihood of "better" being better for boaters.
At the moment there is strong resistance to the building of self-management, the libertarian nature of many boaters, feeds fear and divisions amongst the community. This disempowering is pushed by many people for many different agendas on our own side and their side. Some thought needs to be put into any strategy to mediate this.
What would a medium-term sustainable boater lifestyle look like?
The tragedy of the Commons would have to be addressed, and market solution clearly rejected. How would this be manifested would be a working progress.
A number of roles that CRT are currently pushing as their responsibility would have to be clearly/largely taken over by cooperatively run boater responsibility groups. Primary amongst these will be the enforcement of the 14 day rule, moving towards this would be one of the key ways of building boater self-management. Areas like recycling, community cleanups, carer and repair of the basic infrastructure could be taken over by a mixture of small-scale boater businesses, cooperatives and voluntary groups. To facilitate this becoming a national coordinated response we would have to creatively use open digital structures to federate these solutions.
Above is just the start of a proposed list, the process of public brainstorming could expand and filling the gaps as needed.
In conclusion, life on the cut has a strong community that is weakly bound by bureaucratic structures, there is a good opportunity to build a movement towards a more utopian/practical alternative to mainstream ratrace society. Currently boating is small and marginal, it is outside of the view of traditional power politics with the transition from British Waterways to CRT we are part of a small Conservative experiment in self-management, this experiment like many coming out of traditional politics is a fantasy and will fail, left as it is boating will fall back into the old bureaucracy and thus be devoured by market relationships, our community though strong is fragile and is unlikely survive this transition.
The challenge for us is can we use the opening of this failing experiment to build something more interesting, to sustain our lifestyles and traditions to strengthen our communities and freedoms. And to raise our eyes a little bit can we be a small change in the larger world.
UPDATE: the has been a long comment thread on #failbook which will add as another post
Lets look for a moment at "sanity" in grassroots terms
The are a lot of "insane" people in activism and counter-culture, its what makes it exciting, dynamic and affective. However with everything its a question of balance, lets look at how a movement stagnates, fails or growes and blossems.
A short off the top of head list
NGO'ists push limited bureaucratic thinking over everything, they get into bed with anything that can be shaped to their mind set and is fashionably fundable. They take up mind space and squander resources. The vast majority of "institutional" money goes into this.
Encryptionists – service the paranoid fuckists, they have a strong tendencies to reduce usability and create dangerous fantasises of security and anonymity. The are a lot of these as this has been a dominate way of thinking for the last 5-10 years.
Traditional media panderers have there uses for a companion, but soon start to misshape the movement to mainstream agenda's – hard not to have this outcome.
Horizontal dotcom'sts try to use our movement to jump start their dotcom, fine if its built with the 4 opens, if its not then distraction if failur and disaster if people use it – so bad outcome both ways.
Insecure and nasty lifestyles are endemic and are attracted like fly's to any successful grassroots project and they are feed by the felandering of the Traditional media panderist – this can easily tip into being a movement death spiral.
Hidden careerist are good for movement building as tend to be the competent ones, but start to drift to NGO and media philanders to build their careerer rather than the grassroots movement.
Paranoid fuckwists are the bedroock of most grassroots campines and in small doses help hold things together, get to many of them in places of responsibility and you have out of control infighting.
Dogmatic liberals are lovely people, but a strong force for blocking sustainable alternatives, its imposable to meditate the breakdowns with a few of these at the core of any counter-culture.
Now for a corresponding "good" list of activist "insanity's"
On this subject it helps to be a bit "mad" to stay in grassroot movement for any leaghnth of time
The hand's off NGO's the is a long (hidden) history of healthy NGO/atavism synergy
The user focused KISS per2per'ists are working on the uphill project of (re)booting the open web.
Traditional media outreach'sts are promoting grassroots media and technology by linking it into traditional media narratives to build the world rather than misshape it.
Horizontal dotcom's are working on "open" federated sustainability rather than closed client server "solutions"
Lifestyles are though opening up in the campaigning lifestyle flow and learning to let go and build healthy connected lives.
Open careerist, are bootstrapping the campaign while bootstrapping themselves, they take the open energy like a trosion horse into the belly of the traditional beast. Some one has to do this...
Secure organising crew is everyone job to keep it carm and focus, and help out with the very real "offline" security and communication that activism needs.
Liberal liberals the calm and the balance of "common sense" that's needed to keep things from going horribly wrong.
Activism is a dynamic and crazy place full of "insane" people doing fantastic things, its a balancing act to hold it all together, to much of the top and not anufe off the bottom and it quickly slides into something few people wont to be involved in – then disappears with little trace.