Content with tag rss .
Looking at the tech and organising of UK alt/grassroots media
How meany sites link to anuther alt/grassroots media sits. from this list of 38 UK sites only 2 link to anuther site.
Many people find it hard to understand the underlining understandings that push projects based on flow and linking such as OMN and openweb. Here is a short list of activish projects.
Silo
Is a place for holding/hoarding closed data – this is used by the #dotcons to extract funding form "free users" when mainstream/alt silo projects finish, as 99.9% do, the data varnishes and is lost, and in this the effectiveness of any alt building is diminished. Silos do not use open licensing for content re-use. Just about every alt/grassroots media project is a silo. It's about capturing data. Its obvious that this is a unthought through issue of "churning"
Portal
Is an idea that you can be the big one, all the small fashionista websites aspire to be the big one and by doing this they are working to the logic of the #dotcon and working against the logic of the openweb. They are building a project to lock there users into their project. Portal and silo are overlapping (but different) ideas for building web projects. In the mainstream, Apple is a prime example of this working. In the alt/grassroots almost all alt/grassroots media projects are portals. It's about capturing users, just as silos are about capturing data. For a left wing group this looks much like "recreating the Soviet Union" the one party to rule the state.
Dotcons
Are for-profit data silos in the old days working as portals, more recently they are building out siloed networks as a pseudo networked portal. Its both sad and bad that many alt media projects unthinkingly aspire to be #dotcons
Link
Is where ALL the value is on the open web. Without links content has NO VALUE. This is a obvious statement, its hard to understand the the lack of understanding around this simple thing.
RSS
Is a grassroots web standard that is still at the base of many of the dotcon world but is being pushed into the background of the openweb by building silos/portals in the grassroots/alt. RSS is like an open LINK with added data, thus adds value to the web. Its a powerful open tool that we still have. An API is like a geek control freak super power of RSS - the problem is in the complexity/control freak bit...
Geek
A subculture that is control/obscurity and more recently technical solutions to trust (wraparound right) this has always been a closing force on open projects. This helped to strangle the original successful alt/grassroots media projects and is pushing for the shrinking of the open web.
Fashionista
The unthinking desire for new/innovation/conformity. A wider subculture that churns the growth of alt/grassroots so little can grow beyond seedlings.
NGO
Are greedy dispoling of resources both human and money. The liberals that use bureaucratic funding to push out the geek/fashernista agendas over alt/grassroots projects. These are uneasy friends and clear (invisible) enemys.
Network
Is both a technical thing of wires and frequency and an understanding of mutual aid and of "diversity of strategy". It's native to the openweb and should be at the base of any alt/grassroots media project. In the closed #dotcon the widespread use of A/B testing is a pail controlled shadow of this.
4opens
wikipedia is an example of this. It's basic stuff open source project stuff. LINK
Looking at the tech and organising of UK alt/grassroots media. Do sites link to other alt-media projects? Do they support/display openweb standards (RSS)
First DRAFT (please message me with corrections/info)
the canary
Has a RSS feed, regular updates, copyright group silo, it has no outside linking
Reelnews
UPDATE: site back online, no visible RSS but can find a hidden one. Its likely copyright and a silo.
(Their website is hacked/down so posted the #failbook link used to have RSS and regular updates. Anyone know what's happening? Update they hope the site is back online soon.)
Real Media
UPDATE: website back online copyright, no visible RSS feed but you can find ones. Its a a bit of an aggregater but has been suffering from poor spam control. Its pretty much a portal/silo – but could be more.
(They used to have an interesting website for the tec used, but it ended up being just a silo, they look like they are rebooting? Maybe a another silo? we shall see.)
Update they are rebooting as a linking site, lets hope its not a silo.
Novaramedia
Has regular good content, RSS, they are a product of the #dotcon social media wave and good at it. Copyright/CC is not stated. The site is a silo with no outside linking
Counterfire
No RSS feed, starting to look a bit "old left" regular updates, no copyright/CC notice. A silo with no external links
The Bristol Cable - Bristol
No visible RSS feed, it kinda probably tries to obey the 4 opens maybe. It's a WP blog site in this it's a media silo with no external links.
Port Talbot Magnet
http://www.porttalbotmagnet.com/
no visible RSS feed, it mostly fails the 4 opens due to copyright, data and organising. It's a WP blog site, in this it's a media silo with few if any external links.
New Internationalist - based in Oxford
Has RSS feeds, it kinda passes the 4 opens using a CC licence for its content. It links to the visionOntv project.
The Ferret - Scotland, based in Edinburgh
Looks like the old media transitioning to the new media. No visible RSS feed or copyright/CC notice. Is trying to be "open process" looks like a WP site.
Strike! - based in London
looks like a archive of a print mag? Has a RSS feed :)
Positive News - based in London
Dated looking site, hard to read, no RSS feed and a copyright notice. A silo.
Slaney Street - Birmingham
Did not load
Manchester Mule - Manchester
Has RSS feed but last article end of 2015 so not an active site. Probably for fills the 4 opens.
Co-operative News - based in Manchester
Nasty looking site and no RSS, copyrighted, its a silo
Ethical Consumer
http://www.ethicalconsumer.org/
No RSS, copyrightish, old looking site.
Marlborough News Online
http://www.marlboroughnewsonline.co.uk/
no RSS, copyright
West Highland Free Press
no RSS, copyright, its a silo.
Star and Cresent - based in Portsmouth
http://www.starandcrescent.org.uk/
No RSS, no copyright notice? Its a silo.
Morning Star - based in London
https://www.morningstaronline.co.uk/
Has a RSS feed but its empty, copyright, silo.
Cambria Publishing Co-operative
http://www.cambriapublishing.org.uk/
publishes paper books?
Zed Books - London
paper books and online reading lists, no RSS I can see.
Sheffield Live!
copyright, has a RSS feed, looks bureaucratic open.
Blake House - based in London
no RSS, fashionable calling card website with out content, probably copyright?
Media Co-op
Calling card website with out content, no RSS, likely copyright.
Ignite Creative - based in Oxford
Calling card website with out content, no RSS, copyright.
Shedlight Productions - based in Southampton
http://www.shedlightproductions.co.uk/
calling card website with out content, no RSS, copyright.
Steel City Film and Media Co-op - based in Sheffield
https://www.facebook.com/SteelCityFAM
its a #failbook page, maybe open?
Trafford Media & Communications - based in Manchester
(mostly a printer, but also do film production)
calling card, no site.
The Community Channel
The granddaddy of NGO media, no RSS feed, likely copyright silo.
Jammu Kashmir TV
it has content, silo?
Open Audio
Has a working RSS feed
Inform My Opinion
https://audioboom.com/channel/informmyopinion
Has working RSS feed but it fails in my pod catcher, its a page on a #dotcon?
Mydylarama
has RSS feed, copyright, silo?
AMP Worcs
calling card.
A Television
Half finished calling card site.
Salfordstar
Hastings independent press
No RSS, no copyright/CC notice, a silo with no external links.
http://www.hastingsindependentpress.co.uk/
Copyright, no RSS feed, has some old school widgets which might show external links. Its a local news silo.
Corporatewatch
Has RSS feed and CC licence, no external links on front page, its a silo but better than most.
bellacaledonia
Has a RSS feed, its a silo but the is hope for it.
voxpoliticalonline
http://voxpoliticalonline.com/
its a blog in the old school sense, has RSS
evolvepolitics
its a silo with no RSS and no external links
A lot of the original links came from https://www.facebook.com/jdaviescoates
How to do ethical aggregation and news flow displays
The is an issue of fast flowing (lower quality) news sites dominating over slower flowing (quality) sites on short 5/10 story sidebars on the #OMN
To get round this the are a number of options:
We only show one item (the latest) from each feed in embed RSS feed flows. This will mean that some content is "skipped" on high flow sites and some stays around for longer in low flow sites.
But for this to work in nodes (sites/hubs) with lots of source feeds we will need a rolling group RSS polling update system say 5 or 10 feeds at a time, divided into the total polling time frame.
So a site has 30 feeds polling ones per hour than it will divide this into 3 groups of 10 feeds and pole these in turns ever 20 min so that the feeds are undated ones per hour but in 3 different groups so that the is a turn over of content for the feed for option 1) to maximize slower site flows getting linked to in the #OMN
A second option that we do now on the node dispay iis we randomize the content in site flow feeds, this will give a wider view of older content and will even out faster/slower feed flows to bring diversity. But you wont get time based "news".

What we do now, we show content in liner order, however due to the way that RSS polling works the updates will be in groups and faster updating sites will dominate over slower updating sites. This is far from satisfactory, as it rewords sites that "game" the system by scatter gun publishing publishing lower quality content.
Open standards and the OMN
Some of the open standereds tech that can be used to build out OMN node:
This list started out on the mastodon wiki. This code would be a good place to start for a full OMN nodeCMS.
Keep it https://en.wikipedia.org/wiki/KISS_principle in open space projects complexity and hierarchy are direct failures
The project
The Open Media Network is a project to play a small role in revitalising the open web. It uses the tried and tested technology of RSS, taking it out of a basic personalised mash-up of feeds into an open metadata social network. Its initial focus will be around alternative media, enabling projects to grow and cross-fertilise independently of the social media corporate giants.
Rationale
The #dotcom silos are completely dominant in terms of people's identity, for publishing and for networking etc. At social events you once gave your phone number, then your email address, and now you friend on facebook.
By contrast, the open web has plateaued or is already in decline, depending on your point of view. To fix the issues of why the open web is failing we first need to look at why it succeeded:
The internet/web was a KISS trust-based network that took over the world we have been living in for the last 30 years, and it was no accident that identity checking and security were missing from the original internet/web.
To reboot the open web will take many overlapping streams of open projects. Here we are proposing a KISS project to that end.
Let's look at a small, once healthy stream. Alt/grassroots media used to play a large role in the world. Now all that remains is a few sprigs of green in a polluted/dry river bed. In its heyday the global #indymedia (link broken) network rivalled the BBC and CNN in its scope and coverage on the big days of action and international summits. Now all that is left are some strongly branded small projects (http://novaramedia.com), that grew from #dotcom social media and are only networked within them, and a handful of big legacy projects (http://www.democracynow.org).
The problem we face is a pre-web problem, that of silos. That is each project is a small pool in a empty/dry river and there are very few links or shared data from one to the other (link to 3 projects). The currency of the web is the "valid link"to build networks. Alt-media's growth is severely limited by this lack.
Open Media Network
The OMN is one project to fix this problem.
It is a project of the 4 opens. It is a human-based project at its core, as opposed to an algorithmic project.
Quite simply we want alt-media sites to link to each other and share content, to become a healthy network rather than isolated drying-out silos.
The outcomes needed for it to work are easy to achieve, and they have a large possibility to grow/empower projects as a network.
The project uses RSS as a data object exchange format, using a tagging folksonomy as a way of shifting the data flow between federated sites. It uses both native code plug-ins and javascript to "embed" links to this tagged data flow in open web sites and blogs (working example visionontv side bar on http://newint.org)
RSS aggregating news portals are not new, which is a major part of their strength for the realizing of the Open Medium Network. Taking this tried and tested tech into an open metadata social network is new. Another thing which will be new to some of the media side of the project is the 4 opens.
Each participant in the OMN will embed at least one news river in their sidebar.
The plan is to build synching aggregating portals / hubs (based on existing CMSs) that feed those sidebar rivers.
Human networking based on trust is key.
Aggregators choose to link RSS feeds into their hubs.
Users choose the tags for the link streams from the hubs into their side bars.
To facilitate trust, basic security is built in.
flows can be on auto or moderation
there would be a feed-based roll-back for when spam gets through the trust network.
User embeds, either native or JS, are boolean tag based and have metadata editing rights based on trust (hosting hub gives them this), with 3 levels: auto/moderation/rollback.
NOTES for Developers:
This project uses technology to build a human network. There's a sense in which the simplicity is as important as the code. The project can grow to work in many different ways but the base has to be KISS.
NOTES for journalists and media makers:
You retain complete control of what appears on your site. As the trust network builds, it will become higher quality and faster to administer.
Outcomes
From simple springs big rivers grow to feed the sea.
In my 30-year experience, I have seen too many alt-media projects grow, flower and fade away, without aggregating or archiving themselves into a state of permanence.
This project can play a crucial role in solving this, as hubs will not only be able to moderate the flows of news, they could achieve it, with no extra work, in a massively redundant distributed way.
The same basic project and tech will work fine for the blog-rolls of sites, creating more "static" dynamic linked side bars. This will reboot the idea of "webrings".
It can also form the basis of identity. People are just a tagged data object that can be sorted into "flows". This opens up social networking to creative thinking.
Sites link to each other both though trust, the human side, and through links, the machine side. Both are a good opportunity for the open web to compete with the closed silos.

The networks of hub sites become portals in their own right, driving traffic to the root news orgs/blogs that feed them.
300 words
The Open Media Network is a KISS hybrid client server/peer2peer project to play a small role in revitalising the open web. It uses the tried and tested technology of RSS. Its initial focus will be around alternative media, enabling projects to grow and cross-fertilise alongside the social media corporate giants.
For the full background to the project see this http://hamishcampbell.com/en/home/-/blogs/open-media-netwo-1?
Stage one (6-12 months) basic linking and embedding programming, basic beta roll-out – the outlandish funding.

Stage two (6-12 months) is synchronising and meta-data editing, then expanding roll-out.
When we have basic working code, set up a number of exemplar hubs to beta test the project in the real world and push out embeds to existing real world alt-media sites.

This project is largely social technology. The tech part is configuration and repurposing existing CMS's and their plug-in architectures.
Pre-programming - there is a need to look at the existing code/plug-in base and spec out a number of roots to working aggregating CMS to seed development.
List the parts that need scripting/programming/configuring.
Work out the basic meta-data format (RSS/atom)
These no exclusivly act as "seeds" for the aggregating hubs. They already have some of the basic functionality needed. Take this list to open source programming projects such as LINK etc.
As an open project built peer2peer, the core is to get a lot of people at different levels of expertise working on each bit and run them all in parallel. There is no right answer and no signal point of use/failure.
visionOntv project can offer to match the funding coming from outlandish.
I take this comment from a famous programmer as a complement "feels dated in the language and tech" that's the point ;)
--------------------------
Briefly describe what support in addition to funding you would require to make your project a reality. This could include people with other skills, or office or event space.
The funding is nice to keep focus, but the core help is the links and knowledge network that outlandish provides. The content and media side we can handel. The running of aggregation we have been doing for over 20 years, over many generations of failing alt-tech. At the moment we only have youtube play lists and embeds, this is a crap situation, not to say embarrassing state of alt-media.
Looking at what we have to base open media on – my initial reaction is one of anger that what we have is so crap and ill-suited but you can only work with the tools you have.
Looking to set-up a seed network using existing CMS's. WP, Druple and Davie Winers CMS
We are using RSS02 for something its not directly made for, we are using it for a database object exchange format. To do this we need to understand how it is "extended" http://www.disobey.com/detergent/2002/extendingrss2/
So you can get custom feeds out of WP http://www.wpbeginner.com/beginners-guide/what-is-rss-how-to-use-rss-in-wordpress/
https://wordpress02-hamishcampbell.c9users.io/
https://visionontv-tomspost.c9users.io/
http://drupel02-hamishcampbell.c9users.io/
We have an issue with terminology category/tag
OK we have two WP test sites set-up, we need to get them subscribed to different feeds with tags/category working – the get custom tag/category RSS feed to cross post between them.
When this is working we have the basics for WP
Looking at Drupal next
My first reaction is AHHHAAAHHH... keep digging...
This in theory should provide RSS in functionality we need https://www.drupal.org/documentation/modules/feeds
And there seems to be built in RSS feeds for each "category", so in theory we have a working set-up.
Will try this tomorrow.
First stage of testing open CMS's for the OMN project
Setup 3-4 sites each with
* RSS in and out via tag
* We need to make sure the RSS can be full text and that it can transport the tags
* We need to be able to display the RSS as short article with a link to the original source
* We need to clearly show the sources for items and turn off comments
* We then need to see how the "de-duping" handles content clericals (?) and content updates etc
UPDATE
Got to a stage were I was hitting scripting complexity dead ends on both CMSs, and took a week off to digest.
Both can do the OMN but both have flaws for the core project. They don't understand open flowing data, they both work within their own paradigms - that is, they are silos not networks.
To modify this would likely need some programming rather than scripting. Anyone have a second opinion on this?
Not sure the best way to move on from this.
News - Ideas for ethical aggregation of content
The way forward for aggregation is to break away from the current failed strategies, and to make it "ethical".
This will need the technology that Dave Winer is pushing, amongst others: http://en.wikipedia.org/wiki/Markdown
We need a clear separation of display formatting and content. In other words, content is published and formatted on the home site and displayed there, but it is aggregated to other sites as metadata. The content is still loaded from the home site, but the formatting is "hinting", not finished formatting – the finished look and feel is defined by the aggregating site – the content (and hinted formatting) is loaded from the home site.
Thus the content is viewed from both the aggregating site AND the home site. Any edits or comments are published to and loaded from the home site. How they are displayed is up to the viewing site.
*** some temporary dynamic caching can be implemented to make scaling work, as needed ***
It's simple technology that makes aggregation real rather than stealing. How does current "bad aggregation" work? A number of ways:
1) Content is simply republished onto a new server. Comments and views are separated – the content is "stolen" from the host publisher site. This is the favourite parasitic strategy for the dot-coms like huffingtion post etc.
2) Headlines or excerpts are republished with a link back to the full article on the host site. Kinda OK but limited.
3) A silo is created and people are encouraged to publish their stores directly there, as done by projects such as Oximity. This is the most common and worst outcome.
How would what I am proposing be different? The outcome of this simple technology would be a widespread explosion of different sites full of content with radically different looks, feels, interfaces etc.
Content would spread organically. It would be placed in niche sites and good content pushed to the top sites to much larger distribution than you can get on any platform at the moment.
In my opinion, all current distribution is broken, we have to reboot.
Tools to use
Use RSS as the basis of the network to get 98% coverage of content from the project launch. And to give an easy output for other projects to build on. Existing CMS's like wordpress etc can then be used as sources and with plugins can become full members of the network.
http://en.wikipedia.org/wiki/Markdown
What would an open media network (OMN) look like?
Lets do some grounded/blue sky thinking ;)
The internet has been (unbelievably) successful because its libertarian/anacist open/trust peer to peer network with very light centre and governances. How do we (re)build an grassroots-media to flourish in the 21st century remains of this open web?
What would an open media network (OMN) look like?
Ps. this actually already exists in part in the visionOntv project.
Peer to peer is the long term goal, but the whole internet is now largely based on client server and alt-geeks love control, so let's take a half first step from this spot.
We need to activate the already existing client/server federated scalable human aggregation content network.
* Based on RSS (98% implemented)
* Based on current CMS's (90% implemented)
* Second tier embed option for legacy sites (80% implemented)
* Constructed with the 4 opens.
1) Content producers are all the current sites – they have to put out a RSS feed of content (98% do all ready)
2) Second level - subject/region/ideology aggregation are run by small groups and individuals. These can be based on current CMS's with RSS aggregation modules (50% implemented)
3) Top site takes feeds from the subject aggregation. Same CMS as second sites.
Producers/subject (1,2) can take embeds for (3) etc. to help to bootstrap the network tech.
Thus the content is published at the bottom and make its way up to wide distribution on the top sites.
Important to realise that NOBODY is in control of the network and it is completely open to setting up nodes at different levels. It is governed by the 4 opens and a light bit of agreed "set-in-stone" process.
In this set-up we have a horizontal media where everyone is in charge of their publishing, and the different communities organically create their own content flow. Some sites will be highly linked and aggregated and some will be ignored, the whole network will organically split into streams and tributaries of data/content flows. These can and will become communities. If one fails it will be replaced organically with another, the best will rise and the worst will fall, they will criss-cross and settle into a multitude of flows.
The whole network will be based on duplicated synchronised meta-data – the source will reside at the publishing site. Davie Winar has done work on how this is achieved (we can implement some caching into the network to deal with scaling issues when needed).
SPAM is dealt with by trust, as each site makes a decision to trust the sites it links to, If you let spam into your network, people will drop YOU. A data roll-back can be implemented for removing SPAM flows that get though this trust network.
The friction (delay/server load) of the RSS object aggregation is actually a feature driving content consumption to close to the bottom. Each server can have traffic light flags for load, add too many feeds and it goes into the red, drop feeds and it goes orange to healthy green. This accelerates the diversity of aggregation sites – if you don't wont to be an aggregate you just take embeds from a site you trust.
The top sites are easy to create but slower/hard to add value to, this drives the creation of second(2) sites to build out the wider network.
The successful top sites will grow to compete with the failing traditional media. The health of the network will be at the second level sites that feed the top sites. The content will come from the bottom, rejuvenating blogging and community websites. The closed dotcom's such as Facebook and Twitter lock them selves out of content production by not supporting RSS – they become declining dumb pipes for OMN distribution.
JavaScript embeds can quickly add the content to a wide range of existing open internet sites to accelerate take-up (we already have this working with a video embed on every page of the New Internationalist website for visionOntv)
As the OMN takes off we can create peer to peer encrypted object flows to move this away from the client server paradigm to make the network more robust against disruption by states and corporations.
The outcome is a distributed data internet of flows. Like the internet itself, it will simply flow round damage/censorship and is open to all.
Hope you found this useful
Hamish Campbell
I live in a functioning contemporary P2P media world. For a few weeks I have tried going back to the traditional media. Its an eye opener to (re)realise how narrow and right wing the progressive traditional media is. I live in a world of RSS aggregation for my "newspaper", podcasts for my "radio" and torrents for my "TV" and "Cinema". With a unhealthy dose of #failbook for organising the social world.


Its winter time so am spending more time in cafés working and charging laptops, in this space am picking up traditional paper news. On the boat I had some internet downtime so plugged back into radio 4 and every so often look for interesting Tv on iplayer etc. What I find when going to traditional media is a narrowing of my world view, its a dumbed down world on paper/radio and TV. Its actually worst than this as its a strongly propagandist in it choice of voices. I find that the "liberal" traditional media is a slow steady drip feed of poison that dulls the wide possibility's of social and environmental change that is transparently needed and possible.
I advocate wholesale that people leave this world view for their mental health and the health of the wider human/natural world, the liberal traditional media is making you ill (at ease).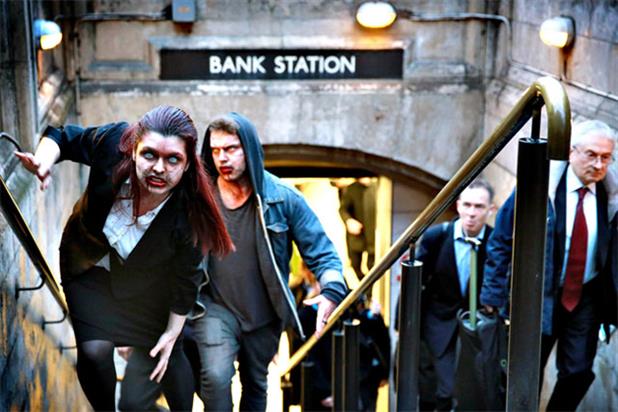 But I hear cries "were is this mythical alternative" and in a limited sense you would be right to ask this. BUT it would be a circular discussion, the alternative has existed for the last 20 years – the issue is chicken and egg you have to use it for it to exist.

Most of the real existing alternative is based on a "stupidly simple" technology created by the practical tech visionary Dave Winer. The format is RSS its the based of my news reading (feedly) and my radio (beyondpod) I have been working (and failing) to make it the bases of my TV and cinema for the last 10 years (visionOntv).

You too can shift to/build your own contemporary per2per media world and reclaim your mental health and power to shape your life and the community/world you live in. The traditional media is a slow steady poison, its well past the time to brake free, its not as hard as you think.
The way forward - some simple social/technical solutions
* Nurture basic journalism/story telling skills in alt-media to make better outreach media. LINK
* Linking is key, link to alternative resources where ever you can, the easiest way of competing with corporate news sources is by building a web of connecting linked alt-news sources.
* Aggregation is a way to make decentralisation work.
* Have the main way of inputing to any alt-project at a local level then let the content work its way up to the top of subject/geographic aggregation sites. While always keeping the valid link back to the original source. I know its hard but try and avoid building consensus/bureaucratic publish from the top sites/projects where possible.
* QUOTE "content is just something for conversation" This opens the question of where does the interaction around content take place – this is still a unresolved issue and needs more thought and technical work – for now a diversity of strategy is probably the best way forward. While always keeping the valid link back to the original source.
* This is a controversial point - ONLY use the corporate social media solutions for link building and feeding people into contempery media projects – corporate social media solutions should be avoided as much as possible as original sources of distribution. DO use them and abuse them but its a common mistake to build real companies and communities solely within them. Its easy, publish on a alt-newsite site/blog then publish a link on facebook and twitter, you can use tools that do this automatically.
* Be open to using all tools, but try and come down on using free/opensource and open standards were possible. For two reasons
1) there is an opportunity for people to build things with opensource and openstandards using your project that you DIDN'T think of – this is actually where almost all innovation on the web comes from.
2) all corporate tools are bound up with the need to create profit before functionality and user experience so in the end they all have to sell out and focus on profit before users/content, its just a matter of time, the ones that don't follow this line run out of funding and all your work vanishes anyway.
* RSS and Creative Commons are your friends, use them well in every project you create.
That's really it, let's work together to use the "digital hole" undermining corporate media "to replace it with something nicer" its really not that difficult. Let's all Link and Aggregate based on open standards.
Hamish Campbell, (typed while) camping in the forest at the beach in the bay of Biscay.
The state of video aggregation on the web
There is an issue of centralization around a single portal for different types of content on the web, and the withering of diversity of outcomes that this entails. There are a few successful implementations of p2p web structures such as blogging and RSS but they are exceptions, we have total domination of video (youtube) social networking (facebook) and micro blogging (twitter). Still audio, music, and images are less locked down, and text news is still a open platform.
One way of avoiding this locking and control is the use of aggregation, the are examples of video aggregators such as http://vodpod.com and http://www.mirocommunity.org which we both use. And the visionontv project it self is an aggregating project (with a strong focus on production to balances/editorialise the output).
BUT this alternative to centralised solutions is faltering, if we look at the wikipedia page of video aggregators
http://en.wikipedia.org/wiki/Video_aggregator
we see that more than half have closed down or shifted their focus. This illustrates how the internet is closing down to a few corporate hosted/controlled sources for media, the is a slow reaction to this coming from such events as the recent
http://live.rebelliousmediaconference.org
event and the upcoming
http://www.contactcon.com
in New York. but there is currently no reaction strong enough to counter this centralizing logic/market monopoly.
If you would like to see a open internet it is time to act.
The Stupidly Simple Open Media Network
1. What do you propose to do? (20 words)
A common database of media metadata exchanged by RSS in and out, using open industrial standards and neutral unbranded widgets.
2. Is anyone doing something like this now and how is your project different? (30 words)
There are many aggregators of news (eg http://daveriver.scripting.com/, or http://ignoregon.com) but they aggregate with whole rss feeds not tags, and new tag feeds cannot be created out of them. Closed-source project vodpod works by tag only as a premium feature.
3. Describe the network with which you intend to build or work. (50 words)
visionOntv (a project for distributing social change video) already smart-aggregates 18,000 videos by RSS. Working with this already curated database we can build an exemplar node with de facto open standards.
The project is a distributed database of the human-moderated metadata of user-generated subject areas, making the choice of this exemplar database appropriate.
4. Why will it work? (100 words)
Aims to build a big network, but starts small.
Has multiple redundancy by sharing data via RSS in/out.
Incentives for users
they can publish once on their own site and the content appears on a range of other appropriate subject sites.
No single hub, no single owner, but rather a horizontal network of nodes. Every node can be a hub (an aggregator). This social/psychological understanding of the need to give people ownership means the project can spread easily.
Spam is user-policed out of networks.
Open industrial standards
RSS and atom are used as the database exchange format, as it is almost universally implemented. The leveraging of existing open standards means that 3/4 of the web can already talk to it. Thus we can build a scalable, common, decentralised database.
We implement both of the realtime RSS standards PubSubHubbub and RSSCloud
End-users view videos through auto-updating video player widgets driven by boolean logic.
In the future, it would be possible to radically decentralise where the content is itself hosted, using p2p media-serving in parallel with traditional corporate streaming.
5. Who is working on it? (100 words)
6. What part of the project have you already built? (100 words)
We already have the content and much of the metadata for exemplar node visionOntv. There is a database of 18,000 curated and tagged films. Beginning with this node which we control, we can test solutions to UI / security / spam etc issues. And have a practical outcome with embedded media players. We already have one on every page of UK based New Internationalist magazine's sitehttp://newinternationalist.org
7. How would you sustain the project after the funding expires? (50 words)
Flattr is implemented on every page. As a distributed project, it has very low running costs. It would be up to the individual nodes to solve this for themselves. We have a micro-(hyperlocal) advertising model for funding the visionOntv node.