Content with tag realnews .
A look at were alt/grassroots media is at
A look at some of the current alt/radical media projects in the UK
Novra media
These guys are some of the most intelligent "idiots" I know. They produce good content and they produce a lot of it.
* FANTASTIC CONTENT
* HARD WORKING
* OLD, BROKEN AND DANGURUES NEW/OLD MEDIA ASPIRATIONS
You can see them trying to build themselves into the new Guardian/Buzzfeed/***media. The root problem am hoping is the limited understanding/interest of the open web due to them having built there careers inside the #dotcons of Twitter and Facebook etc. In this the is hope for these guys.
Realmedia
The now "old" upstarts who keep getting it wrong by building something that might have been the thing to do if they had done it 10 years ago and most importantly as a open network rather than a closed portal.
* REFUSE TO LISTEN
* FUNDING DRAIN
Hard to say if the is hope for them.
The Canary
The tabloid of left alt-media, my thought is that am glad some one is doing these and its not me :)
* GOOD CLICK BAITING
* EXCELLENT OUTREACH
* HAVE HAD A TENDENCY TO BE ON THE EDGE OF FAKENEWS
* STILL MAINSTREAM MEDIA FACING
Now these guys would be valuable as part of a Open Media Network (OMN) partnering up to work as outreach for the more content soled groups. Its a nobrainer and not to far away from the funding model as a bigger alt means a bigger them, more revenue – everyone wins.
The fact that they are now linking after each story gives hope.
Built by the social media generation so little real understanding of the open web and limited interest in being part of the open world. Is this an unsolvable problem?
RealNews
The granddaddy of the current alt/grassroots media, they are a niche publisher of trade union grassroots news. Good content that all the other groups should LINKING to and share BUT CURRENTLY DO NOT, this sums up the issue with current "alt" media.
With a bit of investment they should be at the centre of a OMN
* HARD-WORKING AND GOOD CONTENT
* TECHNOLOGY BACKWARD
* GETTING A BIT LONG IN THE TOOTH
Am going to take a little time to try and help them out if they need/except help.
Radical film network
Has been taken over by a bunch of career building academics. There events have been so pointless that I have never been to one of them, and, I was around at the setup. I have been one of the most prolific radical/alt/grassroots film-makers of the last 20 years its odd that isn't it, that am alienated from something calling it self "the radical film network".
* THEY LINK
* POINTLESS
* LIBERAL FUNDING DRAIN
Outcome – CHANGE THE NAME to #fashernista film makers / academic career building network
The Media Fund
Grew out of realmedia and share many of its NGO facing. Good and needed project if it can refocus on real media outcomes The 4#opens and the linking of alt-media.
OMN
A open "trust" peer to peer standereds based network thats needed.
* THEY LINK
* #4OPENS PROJECT
visionOntv
Still worthwile as a video part of a network but pointless with out this wider linking project.
* THEY LINK
* "KINDA" #4opens project
Open letter to 4 alt/grasssroots media groups about the openweb
DRAFT (please comment)
Building up alt/grassroots media would be nice to get a reply :)
Hi guys,
Good to get a reply about this project from you.
OMN is a network of Open Media Sites. Its a push to #reboot the openweb that most "value" you currently use has been built upon in the last 20 years. Your careers were built on the destruction of the digital commons its time to pay this back. The cost to your career is light and the openweb can and should be run in parallel to your current use of the #dotcon distribution.
The currency (value) of the web is the link without linking content (no matter how good) has little/no value online and will likely not be seen offline.
Left wing and progressive sites DO NOT LINK and share content with each other. This leads them to have little or no value outside the bubble/echo chambers. And we are surprised and depressed when we keep looseing, there is nothing surprising about this, but there is something depressing about it.
Why is the OMN different to all the other activist tech failed projects.
The top 5:
1) It's based on the #4opens, meaning it doesn't have the buy-in (sell out) issue of NGO's and dotcons and can spread as wildly as the original world wide web (www) if people start to use/build it out.
2) It's KISS, that is simple and standards based, so open to be built-out in unseen directions and open to wide creativity. It galvanises and empowers openweb projects.
3) It's not under the control of one group and is a "universal/standard based so can build and link many niches to link and thus build a real alternative.
4) It solidifies a morality of co-operation and trust rather than fear and compation. Its left wing rather than right wing. All current projects are products of right wing thinking in structure and expectations.
5) It gives the tech/grassroots #fashionista's something useful to do and promote at their events. Its hard to express the pointlessness of all the current alt-tech.
------------------------------------------
reply from one of the alt-media/grassroots groups
Aren't "existing" doing this anyway, linking all media groups together? Afraid I'm not techie enough to understand what OMN is, how it's different, or any of the points you've made, but I'm happy to go along with what everyone else decides if it can be explained in plain English!
----------------------------
We have done some "user story's" https://github.com/Openmedianetwork/OMN/wiki/user-storys hope this helps get away from the tech :)
This is a part list of current working roll-out https://github.com/tomspost/OMN/wiki your content already appears as links on all these sites as you post it.
All current successful projects are networks or in the case of the #dotcon social networks (closed) sudo networks.
Currently the OMN is the only bud of a network we have in place in the alt/progressive.
What dues the OMN mean for the your org
Nothing has to change in what you do if you don't want to do more.
To be part of the network you add a easy OMN sidebar/section/page to your existing site with the content flow you are interested in from any OMN site. You control what appears on your site.
At the moment the is just the one/first that covers the best of grassroots media from a UK and a bit of globle news focus so use that one http://omn.openworlds.info:8080
That's it, you can do more if you like but don't have to.
What this means is that your site will link and share content with other grassroots/alt media sites on there sidebar/section/pages.
Your content as you publish it on your site will appear (you do not have to do anything for this to work) on many other OMN sidebars/sections/pages on other sites and blogs.
It will play a role in "aggregating" the viewership of alt-media, everyone gains from this.
-----------------------------
What we are talking about is building expanding distribution outside Facebook/twitter. You can, and should continue to use Facebook etc. what the OMN dues is start to build independent and horizontal alternative that run/expands in parallel, its working now and easy to use.
Am more than happy to help set-up the embeds in your website, will likely take 20 min.
------------------------------------------
Just in case you are worried about security of your site all scripting is striped from the articles and links and the embed is a standard plug-in that comes from the dotcon markets that 1000's of people have been using for years with out any issues.
Its mature and safe tech that just works.
-------------------------------------------
Ps. if this outreach duse not work its looking like time for a bit of a kicking.... phwww..... crap.
Outline of 20 years ups and downs of grassroots activism in the UK
In my expirence the flowering of the indymedia networks followed by the first years of climatecamp were the high points of activist culture. The end of climate camp was the low point of activist culture, after this the drift to NGO and fashion was wide and dissipating.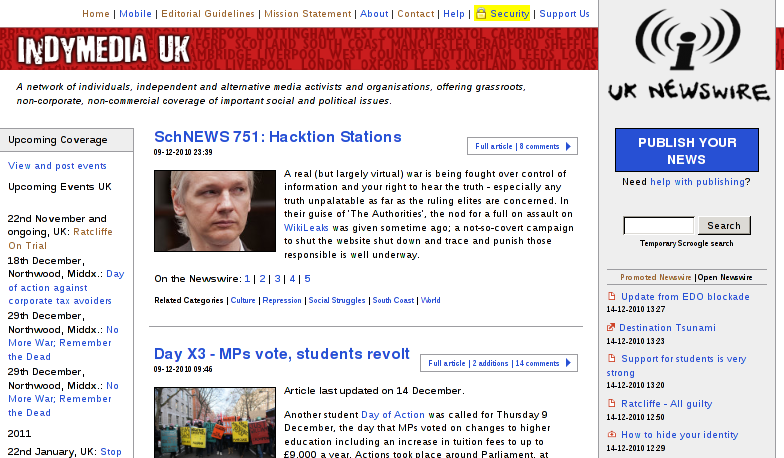 Occupy was a break in activist culture, it was the first mass "internet first" on the ground manifestation that happened disconnected to the past of activism because of the use of #dotcons tools as prime organising space. The old couture has been discredited by the failings of climate camp, the new dotcon tools had been celebrated and used well by Ukuncut etal. Were Ukuncut was a reboot of old climate camp crew, Occupy was a project of the #failbook generation in all its wide reflective madness.
Were are we now? The old left is rebooting with a broken mix of the blairite right and the Stalinist/toxic left both pulling at the radical liberal centre. Alt media content is being rebooted but the network it needs to build, to stop its drift to NGO burn out is missing. The right is ideologically bankrupt and visibly grasping, but stronger than ever.
In activism currently we are full of the biter taste of occupy and NGO worshipping of dotcoms and careerism. The working of the 21st century is potentially different to the workings of the 20th century the are groups, networks and individuals that embody this and a larger group/individuals who fight for the past century working practices.
The "certainties of the 20th century" are grasped in our frail and trembling hands, the first stage of a "network" reboot is to let go of these "certainties" one constructive path to this is to fill in the gaping activist memory hole by looking at what works and what dose not. The lost and flailing progressive alt needs foundations bridging this gap to build on.
The IS NO SHORT TERMISM HERE but the is speed and nimbleness, plenty of fun, creative motivated building to be done. Many of the foundation problems can be built in parallel as a "network" so it can happen faster than most can imagine.
"Never doubt that a small group of thoughtful, committed citizens can change the world. Indeed, it is the only thing that ever has."
UPDATE:
Am currently working on two projects to take steps to medate the issues I ouline here:
The Witches Cauldron - open activist archive