Content with tag open .
Outline of 20 years ups and downs of grassroots activism in the UK
In my expirence the flowering of the indymedia networks followed by the first years of climatecamp were the high points of activist culture. The end of climate camp was the low point of activist culture, after this the drift to NGO and fashion was wide and dissipating.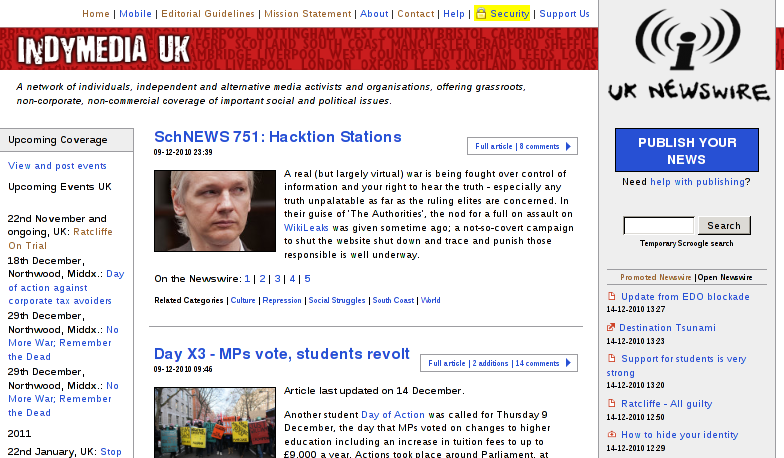 Occupy was a break in activist culture, it was the first mass "internet first" on the ground manifestation that happened disconnected to the past of activism because of the use of #dotcons tools as prime organising space. The old couture has been discredited by the failings of climate camp, the new dotcon tools had been celebrated and used well by Ukuncut etal. Were Ukuncut was a reboot of old climate camp crew, Occupy was a project of the #failbook generation in all its wide reflective madness.
Were are we now? The old left is rebooting with a broken mix of the blairite right and the Stalinist/toxic left both pulling at the radical liberal centre. Alt media content is being rebooted but the network it needs to build, to stop its drift to NGO burn out is missing. The right is ideologically bankrupt and visibly grasping, but stronger than ever.
In activism currently we are full of the biter taste of occupy and NGO worshipping of dotcoms and careerism. The working of the 21st century is potentially different to the workings of the 20th century the are groups, networks and individuals that embody this and a larger group/individuals who fight for the past century working practices.
The "certainties of the 20th century" are grasped in our frail and trembling hands, the first stage of a "network" reboot is to let go of these "certainties" one constructive path to this is to fill in the gaping activist memory hole by looking at what works and what dose not. The lost and flailing progressive alt needs foundations bridging this gap to build on.
The IS NO SHORT TERMISM HERE but the is speed and nimbleness, plenty of fun, creative motivated building to be done. Many of the foundation problems can be built in parallel as a "network" so it can happen faster than most can imagine.
"Never doubt that a small group of thoughtful, committed citizens can change the world. Indeed, it is the only thing that ever has."
UPDATE:
Am currently working on two projects to take steps to medate the issues I ouline here:
The Witches Cauldron - open activist archive
Open standards and the OMN
Some of the open standereds tech that can be used to build out OMN node:
This list started out on the mastodon wiki. This code would be a good place to start for a full OMN nodeCMS.
Keep it https://en.wikipedia.org/wiki/KISS_principle in open space projects complexity and hierarchy are direct failures
Open Spaces and words we use
The use of language and writing by activists has an impact.
Possessiveness "us-them" is a root failing in open structures that cant be avoid, BUT, best not to feed it.
"Bring your flyers, posters, leaflets, newsletters, news clippings, video footage, photographs, banners, artwork and disobedient objects, and display them in the open spaces."
"your" is possessive the sentence makes just as much sense with out it.
"Bring flyers, posters, leaflets, newsletters, news clippings, video footage, photographs, banners, artwork and disobedient objects, and display them in the open spaces."
In the second one this is less "us and you" and "one telling the other what to do."
When working with/in open structures best to just take all the "pointing" words out. Sentences generally work fine with out them.
Just had a "discussion" about this for the expo.
How to re-boot grassroots media to help to re-boot the open web to create real social change
DRAFT
We need to get our current dispurate and weak activist sites to link to each other, then get NGO's to do the same. Then push out news river embeds to more mainstream sites to expand the network.
This project needs to be run as a non-branded open network based on open social and technical standereds.
The social side is based on linking flows of information.
Producers
Consumers
Aggregates
Of course you can and should be all of the above, but to aid expansion and growth this is not insisted on.
The first two paths are easey, the last more complex:
* Producers, this is any web site that puts out an RSS feed, this is most sites on the internet [tick]
* Consumers, are at a basic level very easy to do using a javascript sidebar code or a custom CMS plug-in using the javascrit plugin the barrier to upkeep is slight so this can spread easily. [half tick]
* Aggregates are slightly more complex as they will need custom codeing, this all ready exists in a basic form for Drupal and Wordpress and the miro project. [needs work]
As the production side is already solved and the consumers side is relatively trivial this only leaves the Aggreaters as a steep path to take. We have a small budget to kick this off and is technically feasible.
The second part needed is actually the more complex one, how to get groups and individuals to implement open cooperative working practices. The issues that have to be bypassed/addressed/ignored:
* Geek culture is infeactured with encryption and fake technical privacy, this is fading with the victory of failbook and its fellow dotcoms and the disintegration and fading into obscurity of the geek privacy projects. But this will comeback and bite at the OMN as it grows out and builds the basic open tech. So we have to harden the project against this agenda by codeing the opens into the foundations of the project.
* The Trots and the Authoritarian tendency left jumping on the band wagon, this is solved in the same way as the geek problem as they actually share the same pathology of the 20th century illusion of control.
* NGO's this is solved by moving to fast for them to react, if we get bogged down this might become an issue of co-option. Keep moving fast.
To sum up build soled open foundations and keep moving fast.
How would the project look/feel
The open web and the sites that make it up would look much like they look today.
But the OMN project would socialise linking and sharing to create a network out of all the small disparate bits that make up the remains of this fading open web.
Production and consumption sites would gain a sidebar containing realtime updating links to "tag" based rivers of relevant content.
Aggregating sites would contain rivers of subject based content that they would sive and add value to be re-tageing. And creating meta articles linking to original sources. The feeds that production and consumption sites display would come from one of these aggreating sites.
The network would grow out organicly based on subject:
* a aggregating site could only handeal so many feeds before the human moderates are overwlemed this would lead to specialisation and a hirakey of subject aggreaters that would organicly mirror the existing real social interest groups.
* we would end up with specialisation, and a shifting network of overlapping bottom, middle and top sites which would all find ordnances and drive traffic back to the producing sites that feed the network.
* bottom sites would aggregate mostly original producer sites, middle sites would aggregate a mixture of original sites and tags from subject based bootem sites, finally the top sites would aggregate tag based feeds from the middle sites.
How would this look to the "users"
* It would be much easer for "normal" users to find relevant content on subjects that they are interested in, they would be introduced back to the open web by links on #failbook and #juduceserche engine. This growth of traffic would re-energise peoples websites and inspire the upgrading of meny moribund website projects and a move away from current hegemonic dotcom aggregation of #failbook and its siblings.
How would it affect "producers"
* publish ones and your content appears on 100's of sites driving traffic and commenting back to your blog/website and away from #failbook atel. The open web is being straggled by the pay to view throttling on these copurte silos, its a no brainier to move to escape this now. With the increased trafic you can put energy into upgrading your existen website to make it more relevant, the OMN would be active in providing the open tools and plug ins to make this happen.
What would this look like from tech prospective:
KISS open industrial standards based on trust and redundant data roll-back back functions to Handel the breakdown of trust that will happen some times.
RSS will be used as a database object exchange format, a tagging taxonermy will be used to shift and create the flows of these objects. Subscribing to tag based RSS feeds will be the bases of the trust network.
Open databases will hold duplicate meta data linking back to the original source of the RSS object.
*** the is a creative way of making the consumption of content more transparent and develop/user friendly – this will be talked about later ***
RSS feed aggregation would be base on trusted, strate through or moderated ie adding to a moderation cue in the aggregating sites.
Timeframe:
3 months to build the seed aggreaters and basic javescript embeds/plugins
6 months to build out the seed networks
9 months to major launch
12 months to being a real alternative and play a role in saving the open web.
Food for thinking:
If you think this sounds oldfaserned you would be right it is, its the basics that needs to happen to create a pool of metadate enhanced media objects. What happens after this? for ideas will add some links:
http://mashable.com/2015/07/06/why-web-design-dead/
Climate change and our basic environment are running away with our future. The technology network that could help to save us is splintering. We are fucked, the open web, the thing all progressive geeks build on has plateaued and is visible fading.
A project to play a small role.
It's about stupidly simple and naively open it's an original open Internet Project.
Lest we forget the original Internet was people creating pages linking to people created pages this is what the world wide web is. Networking human beings creating communities using technology.
If you make this too complex to start with you miss the point it's about people and communities facilitated by technology it's not about technology facilitating people and communities.
The difference might seem small but it's important as it's the difference between the original Internet and the intranets that grew up and dominated before the open human powered web swept them away.
Geeks not knowing what they have been doing have been destroying this web of humanity and replacing it with a web of machines clever but inhuman.
If you want to reboot a human Internet it needs to be human first rather than machine first. There is a real challenge for geeks to understand this as it flows against their mindset. CP Snows two cultures is still dominant a strong but invisible flow.
If we are to reboot the open web, we need to put human beings activity, community and empowerment at the root. The counter intuitive is to get humans to do more, not less, as we find the basic satisfaction in life by actively creating the world we live in.
The wiki, the blog, the link, the website.
Don't look down on simple
Put people to work doing something they find meaningful, algorithms can stand in the way as much as they can help here.
All community is based on "open standards" that are widely shared. It's the sharing that makes a standard.
Care for the soil as everything to do with the life world comes from it. To move this forward we need to nurture and create the soil of the open internet. All the high tech seeds you are in love with are falling on barren soil.
To nurture this, one stream would be a human powered semantic web that is based on already widely shared "standards".
Many streams, nature loves diversity and simplistic often pushes over complex.
The OMN is a spring, a stream, a river.
The Base idea works with media items (posts) , sites (community's), people (identity).
It digs history and memory deeply into the network without extra work or much thought (through widely distributed redundant data)
At each stage it empowers the individual, the community and fundamentally horizontalists this empowerment.
Geeks can of course build streams of complex from this common soil.
Just as the original web did it is a stream to expand the commons. From its flow life can grow, such a simple project could help save us all.
And build a world based on linked semantic data.
Build simple, build trust, the is power in open.
OMN link
We face a digital cliff, the open internet may be over


Here are two views on this subject:

We have Phil Windley who thinks the open internet was a historical fluke http://www.windley.com/archives/2016/02/decentralization_is_hard_maybe_too_hard.shtml here he is talking about the very real view that the internet is finished, that the commons have been enclosed by the dotcon silos and what remains outside are terminally withered and dieing.

Then Dave Winer http://scripting.com/liveblog/users/davewiner/2016/01/26/0936.html who argues that the open web comes in waves and what Phil Windley is arguing is but the drawing back of the water before the next wave of open washes in.

My point of view is that both are right, the open internet was a historical "mistake" and with Winer that the are a few waves left, the storm is not over yet. The is a logic to the digitisation of everything and the web was a living example of this let loss, it was a tsunamis that crashed over every part of our cultures and the storm is not over yet.

The commons opened up by the early web are enclosed by dotcons, but their sea defences are low and weak and the digitisation storm still rages.
The open web and the power of lobbyists
http://en.wikipedia.org/wiki/Net_neutrality is being regulated.
Net neutrality is a good thing the open web works because of it. But legislating around net neutrality is dangerous as it opens up the actuality existing open web to the power of lobbyists. Historically the web has been shaped by undefined "traditions" built on open industrial protocols. This "open web" is starting to become thin with the enclosures of the dotcoms.
We are now resorting to "regulation" which takes this nieve working "open" inside the bureaucracy, historical experiences of this is a bit scary. I understand we need to bite the bullet and do, but with our current politicians toss a coin into the air and hope it lands on its side...
The are some good people working on this lets hope it doesn't go wrong, the out come will be in the small details...
Citizenfour – hiding behind Oscar
Here is my persional review of a good film to watch (DRAFT)
Its a feel good movie about brave people changing the world, and they are and they do. But its not a movie about the world changing.
The film reinforces my view that strong digital privacy like DRM in music, software and books is "broken" just like the 20th century copyright world. We as a culture need to get over this and move on. Many people knew this already. It's simple logic and lived experience to know that anything digital is open to copying and passing on. Your communication/identity is digital, so it's "open".
The Snowden leeks, and the film about them, is important for the pre-digital majority who did/do not understand this, the head-in-the-ground worldview. The issue for me is that the film does not actually communicate the nature of open. It's probably why it won the Oscar, in that it allows people's heads not to move, which like many things in the modern world is a dangerous denial of reality we live in.
We need to pull our heads out of the sand and learn to live in the open, because that is where we are and where we will continue to be. Think for a moment: all the state spying, and power, goes out the window, when WE have the "open" knowledge and connections to self-organise. You as an indiviual can only hide from your friends, no matter how you try, and by doing this you're empowering your enemies and disempowering your friends. This film won an Oscar because it lets a whole generation of people keep looking the other way. They don't have to turn to look at "open".
For the technically curious, on the end credits it give a list of privacy tech that lots of people know are broken. Just takes a "google" search:
* The tor project – is not secure http://www.infosecurity-magazine.com/news/tor-is-not-as-safe-as-you-may-think/
* Tails – uses Tor http://en.wikipedia.org/wiki/Tails_%28operating_system%29
* Debian/linux is nice, and being open source could be more secure, maybe, who actually knows?
* Off-the-record messaging – being p2p security might work, but equally vulnerable to screen/key logging etc.
* GNU privacy guard – being p2p can work https://vimeo.com/56881481
* Truecrypt – failed in a public way, like most open projects nobody knows if its secure or not http://www.enterprisenetworkingplanet.com/netsecur/opinion-truecrypt-the-nsa-and-the-myth-of-open-source-security.html
* Securedrop is you guessed it based on our "friend" Tor
Traditional media loves them because they don't make traditional media think (no head turning involved). Yes, with P2P encryption you can get a limited privacy, anonymity is more vapours, and actually the film knows this, but it isn't the message, if it was it wouldn't be Oscar material.
What would an open media network (OMN) look like?
Lets do some grounded/blue sky thinking ;)
The internet has been (unbelievably) successful because its libertarian/anacist open/trust peer to peer network with very light centre and governances. How do we (re)build an grassroots-media to flourish in the 21st century remains of this open web?
What would an open media network (OMN) look like?
Ps. this actually already exists in part in the visionOntv project.
Peer to peer is the long term goal, but the whole internet is now largely based on client server and alt-geeks love control, so let's take a half first step from this spot.
We need to activate the already existing client/server federated scalable human aggregation content network.
* Based on RSS (98% implemented)
* Based on current CMS's (90% implemented)
* Second tier embed option for legacy sites (80% implemented)
* Constructed with the 4 opens.
1) Content producers are all the current sites – they have to put out a RSS feed of content (98% do all ready)
2) Second level - subject/region/ideology aggregation are run by small groups and individuals. These can be based on current CMS's with RSS aggregation modules (50% implemented)
3) Top site takes feeds from the subject aggregation. Same CMS as second sites.
Producers/subject (1,2) can take embeds for (3) etc. to help to bootstrap the network tech.
Thus the content is published at the bottom and make its way up to wide distribution on the top sites.
Important to realise that NOBODY is in control of the network and it is completely open to setting up nodes at different levels. It is governed by the 4 opens and a light bit of agreed "set-in-stone" process.
In this set-up we have a horizontal media where everyone is in charge of their publishing, and the different communities organically create their own content flow. Some sites will be highly linked and aggregated and some will be ignored, the whole network will organically split into streams and tributaries of data/content flows. These can and will become communities. If one fails it will be replaced organically with another, the best will rise and the worst will fall, they will criss-cross and settle into a multitude of flows.
The whole network will be based on duplicated synchronised meta-data – the source will reside at the publishing site. Davie Winar has done work on how this is achieved (we can implement some caching into the network to deal with scaling issues when needed).
SPAM is dealt with by trust, as each site makes a decision to trust the sites it links to, If you let spam into your network, people will drop YOU. A data roll-back can be implemented for removing SPAM flows that get though this trust network.
The friction (delay/server load) of the RSS object aggregation is actually a feature driving content consumption to close to the bottom. Each server can have traffic light flags for load, add too many feeds and it goes into the red, drop feeds and it goes orange to healthy green. This accelerates the diversity of aggregation sites – if you don't wont to be an aggregate you just take embeds from a site you trust.
The top sites are easy to create but slower/hard to add value to, this drives the creation of second(2) sites to build out the wider network.
The successful top sites will grow to compete with the failing traditional media. The health of the network will be at the second level sites that feed the top sites. The content will come from the bottom, rejuvenating blogging and community websites. The closed dotcom's such as Facebook and Twitter lock them selves out of content production by not supporting RSS – they become declining dumb pipes for OMN distribution.
JavaScript embeds can quickly add the content to a wide range of existing open internet sites to accelerate take-up (we already have this working with a video embed on every page of the New Internationalist website for visionOntv)
As the OMN takes off we can create peer to peer encrypted object flows to move this away from the client server paradigm to make the network more robust against disruption by states and corporations.
The outcome is a distributed data internet of flows. Like the internet itself, it will simply flow round damage/censorship and is open to all.
Hope you found this useful
Hamish Campbell
Where are we - an example of what works
An example of what works.
At Balcome the anti-fracking camp last summer we built a "visible affinity group" to do the power and tech for the camp. This was successful in providing working off grid energy for the camp of more than 200 people for 2 months.
However it wasn't with out problems and did fail to build on this success when the time came to reproduce this open working model at the next camps over the winter.
How we made it work, a time line:
* Clear the space of the dysfunction by imposing open working practice's.
* This opens the space for functional working which has been excluded by the dysfunctional pushy minority.
* Open working practices nurtures talent and energy the space growers and blossoms, good shit happens.
* A tiny minority of seriously dysfunctional individuals will actively try and destroy this flowering, some emotional violence will inshuew in process of excluding them.
* The wider camp will become used to a working tech space and normality will settle back into place, at its best this is rinsed and repeated for each part of the camp.
* People will start to forget the open processes as artificial, constant vigilances is needed here to keep openness relevant and in place.
* As the camp is packed down a open meeting will bring this amnesia to the surface as everyone has an equal voice and the focus (affinity) that created the flowering will be trampled under the widening of the groups members.
In the horizontal alt the are only two successful working practices, most organising happens by "invisible affinity groups" climate camp and RTS are examples of this. Rarely "open affinity groups" are also successful, examples would be early Indymedia and this tech at Blacome.