Content with tag youtube .
Good sound recording with a mobile phone.
Comparing a mobile interview with an external mic and with mic built into the HTC phone
With mic, and with out mic (camera woman forgot to pug it in first time)
This is in a relatively low noise back ground, in a normal social space...
This video's distribution is damaged by the use of copyright corporate music
Please "just don't do it" as the is lots of good copy-left music out there.
As a result, your video has been blocked in these locations:
Afghanistan, Albania, Algeria, Andorra, Angola, Anguilla, Antigua and Barbuda, Armenia, Austria, Azerbaijan, Bahamas, Bahrain, Bangladesh, Barbados, Belarus, Belgium, Belize, Benin, Bermuda, Bhutan, Bosnia and Herzegovina, Botswana, British Indian Ocean Territory, British Virgin Islands, Brunei, Bulgaria, Burkina Faso, Burundi, Cambodia, Cameroon, Cape Verde, Cayman Islands, Chad, Comoros, Congo, Congo - Democratic Republic of, Cook Islands, Cote d'Ivoire, Croatia, Cuba, Cyprus, Denmark, Djibouti, Dominica, Dominican Republic, Egypt, Equatorial Guinea, Eritrea, Estonia, Ethiopia, Falkland Islands (Islas Malvinas), Faroe Islands, Finland, French Guiana, French Polynesia, Gabon, Gambia, Georgia, Germany, Ghana, Gibraltar, Greece, Greenland, Grenada, Guadeloupe, Guinea, Guinea-Bissau, Guyana, Haiti, Holy See (Vatican City State), Hungary, Iceland, Iran, Iraq, Jamaica, Jordan, Kazakhstan, Kenya, Kiribati, Kuwait, Kyrgyzstan, Laos, Latvia, Lebanon, Lesotho, Liberia, Libya, Liechtenstein, Lithuania, Luxembourg, Macao, Macedonia, Madagascar, Malawi, Maldives, Mali, Malta, Marshall Islands, Martinique, Mauritania, Mauritius, Mayotte, Micronesia - Federated States of, Moldova, Monaco, Mongolia, Montserrat, Morocco, Mozambique, Myanmar, Namibia, Nauru, Nepal, Netherlands Antilles, New Caledonia, Niger, Nigeria, Niue, North Korea, Northern Mariana Islands, Norway, Oman, Pakistan, Palau, Papua New Guinea, Poland, Portugal, Qatar, Reunion, Romania, Russia, Rwanda, Saint Helena, Saint Kitts and Nevis, Saint Lucia, Saint Pierre and Miquelon, Saint Vincent and the Grenadines, Samoa, San Marino, Sao Tome and Principe, Saudi Arabia, Senegal, Seychelles, Sierra Leone, Slovakia, Slovenia, Solomon Islands, Somalia, Sri Lanka, Sudan, Suriname, Swaziland, Sweden, Switzerland, Syria, Tajikistan, Tanzania, Timor-Leste, Tonga, Trinidad and Tobago, Tunisia, Turkey, Turkmenistan, Turks and Caicos Islands, Tuvalu, Uganda, Ukraine, United Arab Emirates, Uzbekistan, Vanuatu, Vietnam, Wallis and Futuna, West Bank, Yemen, Zambia, Zimbabwe
The web as political ideology
Facebook is capitalism – capturing the commons and shaping it into a delusional tool for private profit.
Twitter is socialism – making everyone equal but keeping power at the centre and falling for the problem of making some people more equal than others.
The internet – libertarianism, creating a space for freedom of every action, but built without the tools for the free-market capitalism that often goes with libertarianism.
The world wide web – anarchism, radically horizontalizing access to knowledge and communication, building a commons for us all.
Old media – zombies clothed in the rooting flesh of the world of scarcity, gatekeepers holding the world from change by the fear of there stench.
Dot-com's – parasites that pray on the necessity leavings of the old world, leeches that suck and suck from the vitality of the new.
Torrents – the greedy happy tool of the hippies, affluence without responsibility.
Youtube – a prison for our collective visions with no bars on the cell windows.
Goggle - is Judas – the one who betrayes us all.
You – what are you in the digital world?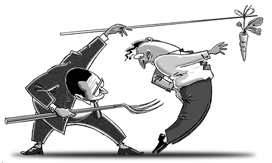 The state of video aggregation on the web
There is an issue of centralization around a single portal for different types of content on the web, and the withering of diversity of outcomes that this entails. There are a few successful implementations of p2p web structures such as blogging and RSS but they are exceptions, we have total domination of video (youtube) social networking (facebook) and micro blogging (twitter). Still audio, music, and images are less locked down, and text news is still a open platform.
One way of avoiding this locking and control is the use of aggregation, the are examples of video aggregators such as http://vodpod.com and http://www.mirocommunity.org which we both use. And the visionontv project it self is an aggregating project (with a strong focus on production to balances/editorialise the output).
BUT this alternative to centralised solutions is faltering, if we look at the wikipedia page of video aggregators
http://en.wikipedia.org/wiki/Video_aggregator
we see that more than half have closed down or shifted their focus. This illustrates how the internet is closing down to a few corporate hosted/controlled sources for media, the is a slow reaction to this coming from such events as the recent
http://live.rebelliousmediaconference.org
event and the upcoming
http://www.contactcon.com
in New York. but there is currently no reaction strong enough to counter this centralizing logic/market monopoly.
If you would like to see a open internet it is time to act.
Interesting (for me) look at were/how we started our project from 13/04/2008
It started as a mashup...
INTRO
We have everything in place currently to run the channel and scale it up to 100K's viewers and when the funding comes through we can pay to expand the infustructer to make the channel independent from copurte structures and scalable to much wider ardencies.
Building VisionOnTV
Here is a list of the resources we use to build VisionOnTV – its important to note that in our use of courpute infrustter we have a back up that can be brought into place to replace any part of the system – the advantage of copuret solutions is that they mean we can get on with building the thing we are good at rather than become bogged down in the technical backend infrastructure. But this independent infustructer is in place in the long term as we need it.
The key choice that is needed when the funding comes through is our CMS which will run the web front end of the project and the social networking for the content and channels.
VisionOnTV (FREE GPL) player app – a customised version of the open source MIRO media player projected 7 million downloads this year. We are paying a very talented programmer to work on this important open source project.
Feeburner (FREE COPUERATE) gives us very reliable RSS feeds with good user stats so we can know who and how people are watching our content. Feebuner takes the strain off our independent infrastructure so that we can expand rapidly with out worrying about scalability. We use a PRO feature to retain ownership of the URL of our feeds if we need to leave Goggle for what ever resion.
Feeddigester (PAY SMALL BUSSNES) allows us to publish on multiple hosting options and have it all come out seamlessly on one RSS feed. It empowers us to mix and match hosting from free streaming sights such as Blip to torrent sights such as VUZE, Broadcast Mashion and our owen CMS and torrent hosting ???? Feeddigest also gives us very esey to use and flexible imbed codes to create RSS widgets on partner websites and in our own CMS. Our owen CMS can replace feeddigester if needbe.
XBTITEAM (GPL and low cost PAYED HOSTING) torrent server alwes us to be independent from copurate hosting solutions and allowing full length HD quality downloads to millions of people vier our VisionOnTV player application. This gives us independence. We have a friendly cheap installing/support and hosting option for this for the people who write the software. P2P torrent streaming is coming on-stream which should allow us to move off free corporate streaming servers if/when we need to.
Broadcast Masion (FREE GPL) was our orional CMS which handealed torrents and direct downloads – we are retiring this and moving onto a new CMS as support has been discontinued for BM.
New CMS (GPL, hosted on own servers) – we cant make the desion on which CMS to go with till we have funding to pay the developer currently we have a choes of two CMS Druple or Life Ray both fully furfill our needs and have advantages. We have 2 seprut experienced developers ready to build us a druple web sight, still haven't found a developer for Liferay yet. It will take 4-6 weeks to build the new front end/backend CMS
Greennet (PAY) currently we host our HTML web frount end on our greennet server we still have quite a bit of copaserty before we need to upgrade this
BlipTV (FREE) is our current streaming and direct dowenload host. We post to blip vier tubemogal with a channel tag, we then take a custom RSS feed of this tag from blip into feedigest which mashes it with the other RSS feeds from the channel posting hosts and passes it to feeburner were it is turned into a standard compliant media RSS feed with inclushers for the VisionOnTV app and other RSS podcatchers/feedreaders.
Greennet (PROBONO) we have a pro-bonoa PRO account (normally $500 a month) on Tubemogal which allows us to simultaneously upload to the 12 top free video hosting sights and track downloads and usage on each sight. This gives us huge distribution around the web with a single easy upload.
Vuez (FREE) easy to use torrent hosting we can use for user uploading and hosting, aspesherly useful for longer films and by technically inexperienced video producers.
Godday (PAY) alwes us to cheaply and easily setup domain forwards to all our channel pages so that you can access them all by a simple and memorable URL. Godday is a bit of a weakness and when funding comes through and the channel starts to grow we will move the domains to a more "political" reliable hosting company. But for know they give very easy access to all the feature we need to make thing work in a fast and flexible way.
Blix (THEY PAY US) we have a contract with Blix which is the largest video search engine in the world who will host and re-distribute all our videos to 12 major corporate search engines and add advertising on these search results which we get a 50/50 split of the revenue on these coupure sights. This will bring in revue for us and distribute the films much wider and as each film will have a link back to VisionOnTV. It outreachs to bring viewers to the better experience provided on by our own player app and streaming sight.
Youtube (THEY PAY US) we have a producer contract with youtube that means we get a share of the advertising revenue generated on there sight and on youtube embeds of our videos. We have over 700,000 video streams on youtube over the last year and XXXX subscribers. The advertismsts from Blix and youtube only appear on sight outside the VisionOnTV project – they will never appear on our pages or in our player app.
Shows (FREE) We have sponsorship in place already to cover the cost of some of our more outreach shows. AZ-of bushcraft and On the push, with a film deal in place for our show living in the future. Sustainability is falling into place for content producers, what they need from us is the widest distribution.
Bookmaking
Publicity
Stumbalapon
Delisuse
Some thoughts on project infrastructure.
We aim to give radical filmmaker the wides distribution possible of there content. The films we publish are distributed to over 30 web locations and are hosted on 10-15 different hosting partners to give both maximum distribution and inshore reliable hosting and robustness agenst censorship of our more radical ant-corporate content.
Redundancy of publishing Because of the way the RSS feeds are setup we can mix and match our publishing to any hosting source as needed in the case of censorship or losing a hosting source. We currently host our project blogs on blogspot.com and have backup RSS publishing pages there that are mashed into our channel RSS feeds as a backup if for any reason the are problems posting other ways – we aim to have at least 4 ways to publish to Visionontv. Our CMS, blip tag (vier tubemogal or direct), blogspot and our own torrent tracker.
Cloud computing or our own servers?
During the setup phase we have been using our own existing server at greennet and this should be scaleable up to a few hundred thousand viewers after this we need to think about switching to Amazon cloud hosting and storage using VM's – the are pros and cons of this approach. As it will be built with VM it will be relatively simple to move out of the cloud into our own hosting if necessary for "political" resion and the use of torrents for media storage means that this is feasible which still reaching out to a huge ordeance. Our prooferd option is to build the project in the cloud and then deal with the possible issues as they come up – this will allow effortless scalability while having a safe fallback encase of censorship or corporate presser.
We are building the project so that it can scale and adapt fast and its is secure and independent.
Copy Right, activist video, and Youtube
If you use traditional media in your video, music or images then it will restrict who can see your activist video. Think about this, and use creative commons music and images if you can. See the "Video blocked in some countries" notice, And these are the ones that weren't just taken down soon after upload.