Content with tag torrents .
The web as political ideology
Facebook is capitalism – capturing the commons and shaping it into a delusional tool for private profit.
Twitter is socialism – making everyone equal but keeping power at the centre and falling for the problem of making some people more equal than others.
The internet – libertarianism, creating a space for freedom of every action, but built without the tools for the free-market capitalism that often goes with libertarianism.
The world wide web – anarchism, radically horizontalizing access to knowledge and communication, building a commons for us all.
Old media – zombies clothed in the rooting flesh of the world of scarcity, gatekeepers holding the world from change by the fear of there stench.
Dot-com's – parasites that pray on the necessity leavings of the old world, leeches that suck and suck from the vitality of the new.
Torrents – the greedy happy tool of the hippies, affluence without responsibility.
Youtube – a prison for our collective visions with no bars on the cell windows.
Goggle - is Judas – the one who betrayes us all.
You – what are you in the digital world?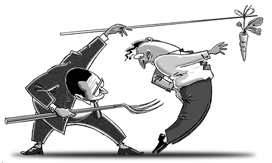 Open security has problems - data mining
It relativly easey to know what you do on the internet.